Careers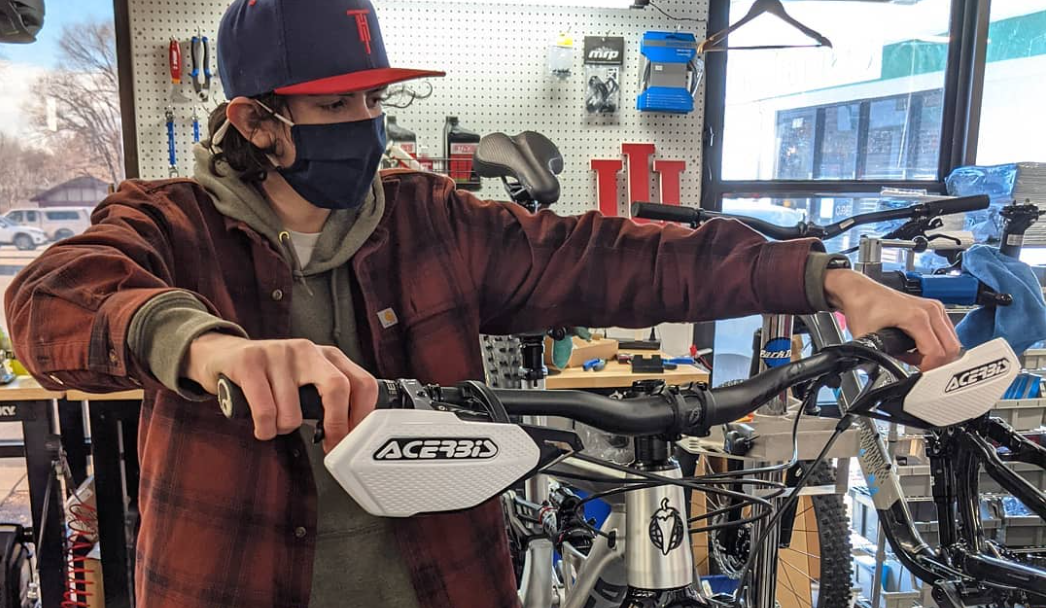 Join the Two Hoosiers Team!
Open Positions: 
Position Title: Associate (Full-Time)

Location: Ogden, UT

Company: Two Hoosiers Cyclery, LLC

Min. Salary: $31,200.00 Annually (40 hours per week)
*Includes 10 days PTO and Paid Holidays

*Paid bi-weekly at rate equivalent to $31.2k annually

Title of Supervisor: Store Manager
PURPOSE AND SCOPE:
The Associate helps to ensure smooth operation of the service department, retail store, and ecommerce. The Associate assist with opening and closing the retail store five days a week, weekdays and occasionally Saturdays. The Associate is to work with the Store Manager and Senior Associates to ensure daily/weekly tasks are clear, communicated, and completed. The Senior Associate requires collaboration, communication, and customer service skills.
DUTIES/ACTIVITIES:
Help ensure opening and closing duties of the retail store are performed properly 5 days per week during store's business hours.
Aid in retail store operations answering phones and customer inquires.
Develop and maintain relationships through efficient and timely communication.
Assist in eCommerce order fulfillment.
Communicate purchasing requirements to meet customer needs.
Work with Store Manager to respond to customer feedback.
Assess areas for operational and customer service improvement.
Maintain a clean and safe work environment which includes but is not limited to: taking out the trash and recycling, cleaning shop floors/surfaces, creating price tags, and organizing the sales floor.
Other duties as assigned.
PHYSICAL DEMANDS AND WORKING CONDITIONS:
The physical demands and work environment characteristics described are representative of those an employee encounters while performing the essential functions of this job. Reasonable accommodations may be made to enable individuals with disabilities to perform the essential functions.
While performing the duties of this job, the employee may be required to sit or stand for sustained periods. The employee is occasionally required to walk, use hands and fingers to handle, reach with hands and arms, and wear personal protective equipment that may include safety glasses, mask, etc. The employee must occasionally lift and/or move up to 65 pounds.
EDUCATION:
High School Diploma or GED equivalent.
REQUIRED EXPERIENCE AND COMPENTENCIES:
To perform this job successfully, an individual must be able to perform each essential duty satisfactorily and display the following competencies outlined below. The requirements listed below are representative of the knowledge, skill, and/or ability required. Reasonable accommodations may be made to enable individuals with disabilities to perform the essential functions.
Language- Ability to read, analyze, and interpret technical manuals, financial reports, and documents. Ability to write reports, business correspondence, and procedure manuals. Ability to effectively present information and respond to questions from managers, clients, customers, and the general public.
Mathematics- Ability to comprehend and apply principles of basic retail math. Ability to work with concepts of basic arithmetic, such as counting money, making change, calculating percentages to determine discounts, gross margin dollars, gross margin percent, sales tax, shipping charges, etc.
Computer Skills- Knowledge of internet software, point of sale/retail software, project management software, Microsoft Excel, and Microsoft Word.
Problem Solving- Identify and resolve problems in a timely manner, gather and analyze information, develop alternative solutions, work well in group problem solving situations, use reason even when dealing with emotional topics.
Project Management- Coordinate projects, communicate changes and progress, complete projects on time and budget.
Technical Skills- Pursue training and development opportunities, strive to continuously build knowledge and skills, share knowledge and expertise with others.
Interpersonal Skills- Ability to resolve conflicts, listen to others without interrupting, keeps emotions under control, remain open to other's ideas, and try new things.
Communication- Speak clearly in both positive and negative situations, listen for clarification, respond well to questions.
Teamwork- Balance team and individual responsibilities. Provide and welcome feedback. Exhibit openness to other's views.
Leadership- Exhibit confidence in self and others, accept feedback from others.
Quality Management- Look for ways to improve and promote quality, demonstrate accuracy and thoroughness.
Ethics - Treat people with respect, keep commitments, inspire trust of others, work with ethics and integrity, uphold company values.
Planning/Organizing- Prioritize and plans work activities, uses time efficiently, set goals and objectives, develops realistic action plans.
Professionalism- Approach others in a tactful manner, perform well under pressure, treat others with respect regardless of their status or position, accept responsibility and follow through on commitments.
Safety and Security- Observes safety and security procedures, report unsafe and potentially unsafe conditions, uses equipment properly with care.
Adaptability- Ability to adapt to changes in the work environment and tasks.
Attendance/Punctuality- Consistently arrive to work on time, ensure work responsibilities are covered when absent.
Dependability- Follow instruction and respond to management direction.
The duties listed in this job description are intended only as illustrations of the various types of work that may be performed. The omission of specific statements of duties does not exclude them from the position if the work is similar, related, or a logical to the assignment to the position.
Email resume to [email protected] to apply!